Pianist Lost Volume I—Excesses and Excuses is comprised of 13 piano pieces played in an unusually warm and personal way in high-resolution sound. If you have a Blu-Ray or a DVD machine, you will hear on your home theater piano surround sound which doesn't sound like a recording, but like a real piano in your living room.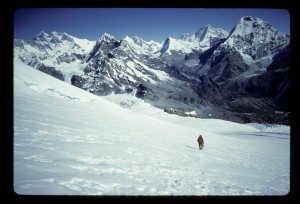 There is also a CD for your computer or your stereo.
On this site, you will find a sampling of the notes contained in the booklet. They will tell you what you'd ideally like to know about each piece: stories of why it was written, what the composer means it to say, what pianists feel about it, what is passed on orally from composers to performers, secrets which somehow get lost in the cracks, and yet which are crucial to appreciating and performing each piece.
There will be five other volumes in this series, as well as a companion book of photographs, and a thinly veiled and suspiciously written hagiography of the pianist, who left these notes and these recordings before allegedly disappearing on Makalu, one of the most dangerous and least-explored mountains in the Himalayas, across the Imje Khola valley from Everest.